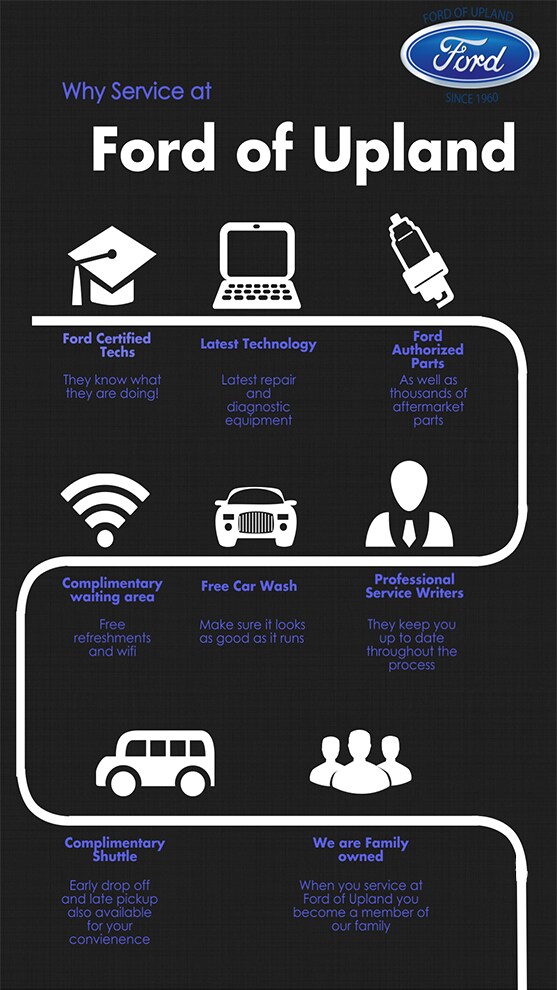 Purchasing a car is the second biggest investment that most people will make in their lifetimes.Where you choose to maintain that vehicle is one of the most important decisions you will make. Taking care of your new investment is our top priority because we understand how valuable it is to you.
Our first priority is to ensure that we keep your investment in top shape so it can provide you with years of reliable transportation. Whether it is a standard oil change ora major milestone service, we take great pride in offering you a combination ofgreat service expertly trained technicians and the latest technology.
Just a few of the great benefits you will receive at Ford of upland:
1) Ford authorized and certified technicians, including a couple of MasterCertified Technicians.
2) The latest diagnostic and repair equipment, including a lot of tools that only Ford authorized service centers have access to.
3) Access to Ford authorized replacement parts as well as many aftermarket parts to fit any budget.
4) Ford trained service writers to ensure that you understand what is going on with your car from the moment you drop it off until the moment you drive it away.
5) Complimentary car washes with every service.
6) Complimentary waiting are with refreshments and WiFi to ensure your stay with us is a pleasant one.
7)We offer complimentary shuttle service, late pick up, early drop off access so that you can get back to doing what is most important to you.