Take Advantage of This Month's Current Offers

Ford Blue Advantage: Confidence at Every Turn
Experience the benefits of Ford Blue Advantage! Each Ford Blue Advantage vehicle features a limited warranty, multi-point inspection, 24/7 roadside assistance, and FordPass™ Rewards Points.
We're Here For You
Ford of Upland always puts customers first!
Don't take our word for it: Read our reviews and see what everyone is saying.
The dealership it's fairly new. But I'm actually here for the PowerFlex chargers. They're pretty quick.
We are a three time repeat customer. We have always had great service and attention to OUR needs, not just was the hot deal of the day.
The total price for our Maverick was given up front with no hidden add-ons tacked on later. There were no high-pressure sales to buy additional packages, just an explanation how we could benefit from purchasing them. We did most of the paperwork online, so our visit to the dealership was brief. The personnel were very friendly and helpful. We drove 90 miles to Ford of Upland because we felt comfortable with their professionalism and respect for the customer.
Ford Upland Center mobile service unit to my house to perform an oil change and servicing. The experience was seamless while I worked inside they worked outside once done they let me know went over all the details and left my payment was processed over the phone and it was very convenient.
I recently had the pleasure of visiting Ford of Upland, and I must say, I was thoroughly impressed with their outstanding customer service. Ford of Upland provides a wonderful customer service experience. Their friendly and knowledgeable staff, combined with their attention to detail and commitment to customer satisfaction, sets them apart from other dealerships. If you are in the market for a Ford vehicle and want exceptional service, I highly recommend visiting Ford of Upland.
ADVISOR WAS PERFECT, COMMUNICATION WAS PERFECT. THANK YOU, FORD OF UPLAND!
From my online request to a reply was every quick, within 30 minutes. I only spent 3 hours at the dealership from test drive to driving home in my New Mustang. Very accommodating and very friendly and courteous.
I started at a different dealer that sold us a car that they couldn't deliver. I was so disappointed that I wasn't getting the car I was promised. I found another Bronco at Upland Ford that was very similar to the one I didn't get. Upland Ford made it happen and made the whole experience so easy. Thanks for the great experience and my beautiful Bronco.
Had my car serviced last week with the mobile service - it was so great to have them come right to my house! The service technician was very nice and polite and it didn't cost any extra for them to come right to my door. I will definitely be doing this again
This was one of the most pleasant experiences I have ever had! Just gave the technician my keys and he brought them back within the hour. The technician was very nice and knowledgeable, and paying my invoice couldn't be easier. The cost to have Ford come out and change the oiI was very competitive, I am definitely going to be using this service on all of my vehicles.
Luis helped out immediately, from internet sales to make a same day appointment. I was in and out within 3 hours.
Very efficient! Good selection and staff was very friendly. Was in and out quick
The Guys that helped me were the greatest they made the the worst job in the world the Best. Always think of them when you need a new car
We walked in not really expecting to buy a car that night, but we fell in love with the car and the employees there were so polite and willing to work with us. Ford of Upland made the experience of car buying very pleasant and easy.
Great deal on a new Bronco
Change from Ken Grody at Buena Park to this place definitely way better service
JOSE and John made a delivery and instructions on the new car easy to understand reassuring and did a great job. Thanks for a job. Well done..
My next purchase will also be at Ford of Upland. I ordered my truck, and they kept me informed as of when it would arrive. Taylor if very well informed on the product he sells.
They are a great Ford dealership that was very good to negotiate a good deal with on the 2019 Ford Edge ST.
10 out of 10 would recommend!
Sales and service staff were professional and exceeded my expectations.
First visit at this dealership. Had a very easy buying experience. No complaints at all.
They had the truck I was looking for. The sales staff were helpful. The experience overall was good.
I took my vehicle to get a scheduled oil change and I was helped with open arms by one on the customer service agents. She was very nice and kept me informed of the process. Once my vehicle was done, she called me to let me know and when I came back to pick it up she help me again. I appreciate that the same person assisted me from start to finish. It made the whole process much easier and smoother. A couple of days went by and I then received a call to check to make sure everything was running smoothly. That was nice of them. Overall, I was very satisfied with the service I received.
The dealer met all my expectations and I'm satisfied with the level of service I received.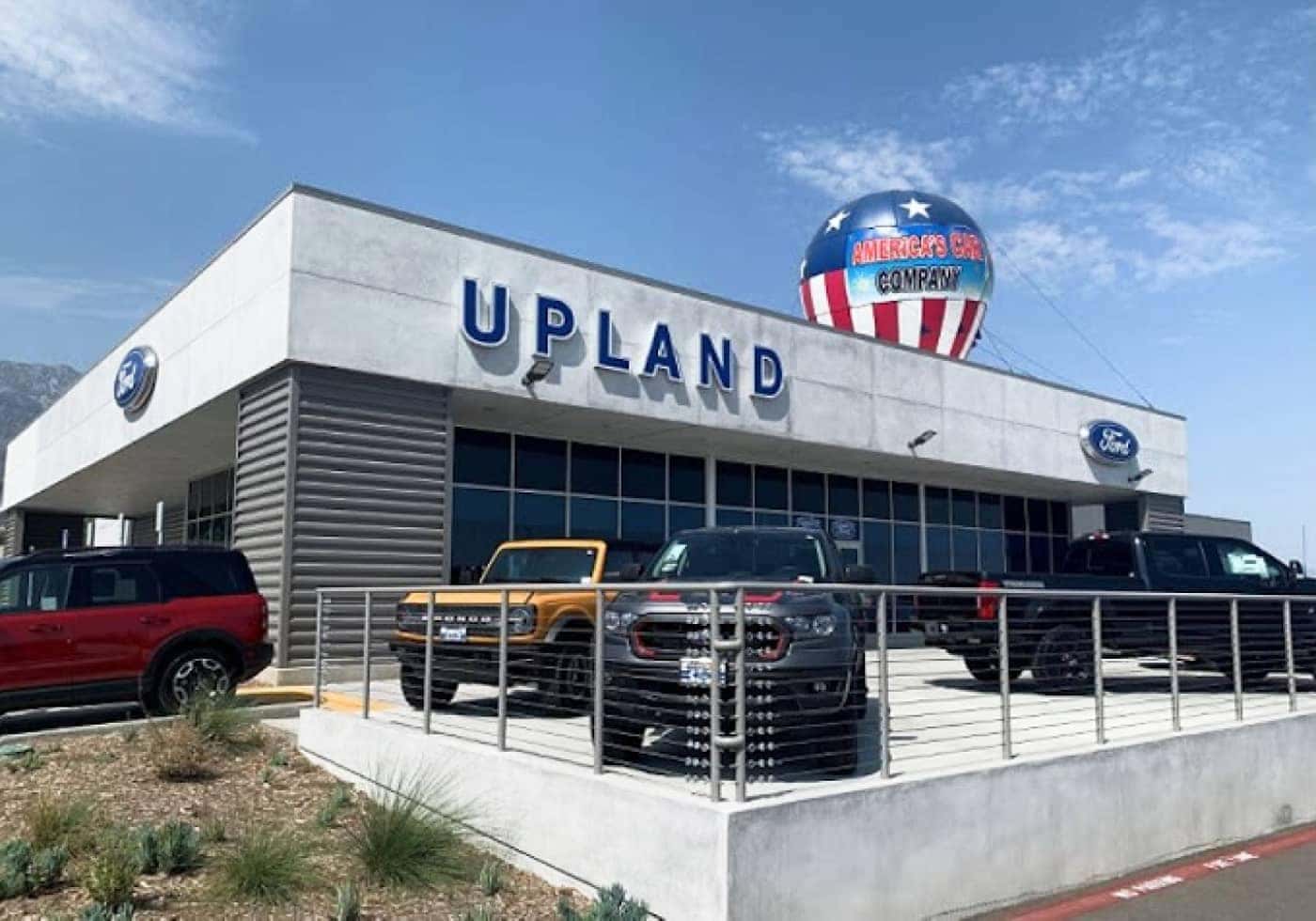 Get Directions To Our Dealership
Welcome to Ford of Upland
Welcome to Ford of Upland, where the customer comes first—and where quality is the standard. Our team is built upon a deep-rooted commitment to provide a seamless and satisfactory car-buying experience that meets and exceeds your expectations. Whether you're searching for a new Ford vehicle, a reliable pre-owned model, or need top-tier servicing for your current vehicle, our dealership is equipped to handle all your automotive needs.
With our knowledgeable and friendly staff, we provide personalized assistance to help you find the perfect vehicle that suits your lifestyle and budget. We invite you to drop by our vast showroom near Upland, Ontario, and Rancho Cucamonga, CA.
Extensive Selection of Ford Vehicles
We are proud to offer an extensive lineup of the latest Ford vehicles, embodying versatility, innovation, and performance. From efficient sedans perfect for city driving, rugged trucks built for tough tasks, to versatile SUVs designed for family adventures, we have something for every driver. Every Ford vehicle in our showroom is designed with the driver in mind, incorporating advanced technology, stylish interiors, and impressive performance.
In our inventory, you'll find the popular Ford F-150, a robust truck that's known for its power and reliability. If you're after a family-friendly vehicle, our range includes the Ford Explorer and Ford Escape, both offering ample space, safety features, and comfort for all passengers.
Finance or Lease Your Next Ford
Navigating through the financing process can seem daunting, but at Ford of Upland, we aim to simplify the process for you. Our dedicated finance team is well-versed in crafting personalized finance packages that cater to your budget. Whether you're planning to lease or finance your next vehicle, we are committed to helping you explore all the available options.
We work with a network of lenders to ensure we can provide a range of financing solutions to fit diverse financial situations. No matter your financial background, we're here to help you drive home in the vehicle of your dreams.
High-Quality Ford Service
At our service center, we're equipped to provide excellent care for your vehicle. Whether it's routine maintenance or a more substantial repair, our certified technicians use their extensive knowledge and cutting-edge tools to ensure your vehicle receives the best service. We utilize only genuine Ford parts, ensuring the longevity and performance of your vehicle.
Our service doesn't stop at repairs and maintenance. We are committed to making the service experience as convenient as possible. With online appointment scheduling, flexible hours, and a comfortable waiting area, we provide services designed around you.
Why Choose Our Ford Dealership?
Choosing Ford of Upland means choosing quality service, extensive options, and a customer-centric experience. Our team works tirelessly to ensure that every interaction is tailored to meet your needs, from the moment you step into our showroom near Upland, Ontario, and Rancho Cucamonga, CA.
We believe that car buying should be an enjoyable experience. That's why we provide a stress-free environment where you can explore our range at your own pace, with expert advice on hand when you need it. Here, you're not just buying a vehicle; you're becoming a part of a community that values and supports you throughout your ownership journey.
Contact us today!
Contact Us